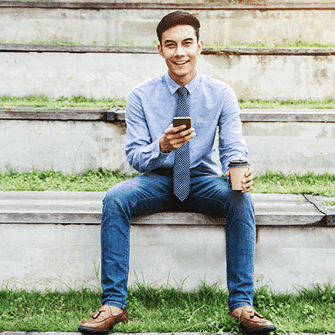 An SLA is a contract between two parties that details the service offered, documents the Service Level Targets and specifies the Service Provider's (HR) and Customer's duties (Employees and Managers).
A service level agreement (SLA) is a formal document between a service provider and the user. It does not define how the service will be delivered but rather provides a measurable framework for the provision of that service. Some metrics that are used to define the SLA might include the mean time between failures, an agreed accepted level of downtime across an agreed time frame, support response and resolution times.
ADVANTAGES OF A SERVICE LEVEL AGREEMENT
Eliminates Unrealistic Expectations
Customers are frustrated when their expectations are not met, whether or not these expectations are realistic. A comprehensive SLA effectively manages these expectations by communicating the abilities of the service provider.
Simplifies Complex Issues
Customers don't usually want to understand how your service works. What they want to know is how it will affect them. The SLA, therefore, describes the issues that are likely to arise, what the immediate response will be and how the matter can be resolved if the response is not satisfactory.
SERVICE LEVEL AGREEMENT PROCEDURE
2 WORKING DAYS
Once you send in a request, our representative will get in touch with you to understand your requirements. If further details are required, we will contact you for the same. Once these are in, we will work on the request and send it to you for review within 3 to 4 working days. Feel free to get back to us if you would like any changes.
2 WORKING DAYS
In case you would like any changes to the agreement, our lawyers will work on them. Two rounds of iterations are included in the original price.
4 BUSINESS DAYS
At Vakeelji, we can deliver all your documentation requirements in just four working days. And if you're not totally satisfied, we'll take another couple of days to work on the modifications you need. All at the lowest price, both online and offline.
9.1 CUSTOMER SCORE
We make your interaction with government as smooth as is possible by doing all the paperwork for you. We will also give you absolute clarity on the process to set realistic expectations.
160 STRONG TEAM
Our team of experienced business advisors are a phone call away, should you have any queries about the process. But we'll try to ensure that your doubts are cleared before they even arise.
Reasons to draft service level agreement
Entrepreneurs choose to register a company due to various reasons. Two of the main reasons is that a company is a distinct legal entity having perpetual succession. Hence, a company is not affected by the death, insanity, or insolvency of an individual member. The following are some of the top reasons to register a private limited company in India.
•Improved Employee Service Management
Any inbound inquiry or issue that an employee raises with HR may be automatically assigned a SLA. When this occurs, the SLA will notify the HR case owner that it is time to inform the employee and keep the case on track to be resolved within the agreed-upon SLA timeline.
An SLA helps HR fulfil the expectations that workers now have of their workplace technology by giving them with the tools they need to provide faster response times and better case transparency to their employees, as well as the visibility they need to continuously improve HR services.
•HR productivity has increased.
HR is more productive and may produce higher SLA Compliance ratings since their efforts are focused in the right sequence.
Efficient Resource Allocation makes resource limits visible.
Team morale and performance have improved.
As per Law, a company is an artificial judicial person established under the Companies Act. A company is a separate legal entity from its Directors and Shareholders. Hence, a company enjoys a wider legal capacity, to own property and incur debts – while the individual company members owe no liability towards the company's creditors for debts.
What is the Price I Need to Pay for drafting a service level agreement ?
The Cost of Incorporation / Registration a Company would vary from INR 6899/- to INR 29899/- depending upon the plan you choose.
Pay as you
go

grow pricing
All Inclusive Pricing - No Hidden Fee
Basic
₹
6899
all inclusive fees
2 Digital Signature - 2 Year Validity 1
2 Director Identification Numbers
Name Approval 2
Authorised Capital Fee 3
Incorporation Fee
Stamp Duty 4
PAN & TAN
LEDGERS Billing Software 5
Bank Account Opening
Commencement of Business

Basic
₹
6899
all inclusive fees
2 Digital Signature - 2 Year Validity 1
2 Director Identification Numbers
Name Approval 2
Authorised Capital Fee 3
Incorporation Fee
Stamp Duty 4
PAN & TAN
LEDGERS Billing Software 5
Bank Account Opening
Commencement of Business

Basic
₹
6899
all inclusive fees
2 Digital Signature - 2 Year Validity 1
2 Director Identification Numbers
Name Approval 2
Authorised Capital Fee 3
Incorporation Fee
Stamp Duty 4
PAN & TAN
LEDGERS Billing Software 5
Bank Account Opening
Commencement of Business

Frequently Asked Questions