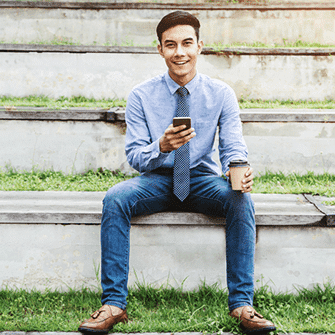 Limited Liability Partnership

According to the section 3 of the LLP Act, (1) A limited liability partnership is a body corporate formed and incorporated under this Act and is a legal entity separate from that of its partners. (2) A limited liability partnership shall have perpetual succession. (3) Any change in the partners of a limited liability partnership shall not affect the existence, rights or liabilities of the limited liability partnership
LIMITED LIABILITY PARTNERSHIP REGISTRATION
As Per Section 2 (62) of the Companies Act, 2013 "One Person Company" means a company which has only one person as member. OPC is basically a Private Company. Only natural person who is Indian Citizen can incorporate OPC. Only one person is needed to incorporate OPC and such person shall be sole member of the OPC.
Time Taken : 10 to 15 days
DSC for 2 Partners
DIN for 2 Partners
Name Reservation
LLP Agreement Drafting & Registration compliances
Certificate of Incorporation
LLP PAN
LLP TAN
LLP AGREEMENT

A Step-by-Step Guide to LLP Registration Process
We can incorporate a company in less than ten days, subject to government processing times and availability of all documents.
Step 1: Dedicated incorporation expert assigned for the engagement
Step 2: Collection of information and documents for company registration from client
Step 3: Application submitted for digital signatures to eMudhra
Step 4: Name approval request submitted to MCA
Step 5: Incorporation documents drafted based on the MCA approved name
Step 6: Signing of incorporation documents by all Directors & Shareholders
Step 7: Submission of incorporation documents to MCA for approval
Step 8: Company incorporated with incorporation certificate & PAN
Step 9: Other process or services begin as per customer requirement
Documents required for LLP Registration
For registration of the LLP Both the partnership firm as well as the both partners have to submit Documents.
Documents required from partners are:-
Identity proof/ Ids of the partner
The partners are required to provide their PAN card as primary ID proof at the time of registration of LLP.
Passport Size photographs of all the partners should be provided.
Address Proof of Partners
Partner have to  submit any document such as Voter's ID, Passport, Driver's license or Aadhar Card. Name and other details as per address proof and PAN card should be exactly same.
Residence Proof of Partners
 Latest bank statement, telephone bill, mobile bill, electricity bill or gas bill should be submitted as a residence proof. Such bill or statement shouldn't be more than 2 months old and must contain the name of partner as mentioned in PAN card.
Passport (in case of Foreign Nationals/ NRIs)
Foreign nationals and NRIs have to submit their passport compulsorily for becoming partner in Indian LLP.
Foreign Nationals or NRIs have to submit a proof of address also which will be a driving license, bank statement, residence card or any government issued identity proof containing the address.
If the documents are in other than the English language, a notarised or apostilled translation copy will be also be attached.
Documents of LLP
Proof of Registered Office Address
Within 30 Days of incorporation of LLP, the Proof of registered office has to be submitted during registration.
If the office registered in being taken in rent agreement or rent then the real owner/ landlord should provide a no objection certificate along with. The bill should contain complete address of the premise and owner's name and the document shouldn't be older than 2 months.
Digital Signature Certificate
One of the designated partners needs to opt for a digital signature certificate also since all documents and applications will be digitally signed by the authorised signatory.
FORMS FOR REGISTRATION
Form name      Purpose of the form
RUN – LLP (Reserve Unique Name-Limited Liability Partnership- Form for reserving a name for the LLP
FiLLiP- Form for incorporation of LLP
Form 5 – Notice for change of name
Form 17– Application and statement for the conversion of a firm into LLP
Form 18– Application and Statement for conversion of a private company/unlisted public company into LLP
Reasons to Register a LLP in India
Entrepreneurs choose to register a company due to various reasons. Two of the main reasons is that a company is a distinct legal entity having perpetual succession. Hence, a company is not affected by the death, insanity, or insolvency of an individual member. The following are some of the top reasons to register a private limited company in India.
An LLP, like a corporation, is a separate legal entity. The LLP is not the same as its partners. A limited liability partnership (LLP) can sue and be sued in its own name. The contracts are signed in the name of the LLP, which aids in gaining the trust of numerous stakeholders and instilling confidence in the business among consumers and suppliers.
Limited liability of the partners
The LLP's partners are only liable to a certain extent. The partners' responsibility is restricted to the amount of money they put in. This implies individuals are just responsible for the amount of contributions they made and are not personally liable for any business losses. If an LLP is bankrupt at the time of its dissolution, only the assets of the LLP are responsible for paying its obligations. The partners are free to function as reputable businesspeople since they have no personal responsibilities.
Low cost and less compliance
In comparison to founding a public or private limited company, the expense of forming an LLP is modest. The LLP's compliance requirements are very minimal. Only two statements are required to be filed yearly by the LLP: an Annual Return and a Statement of Accounts and Solvency.
No requirement of minimum capital contribution
There is no minimum capital requirement for forming an LLP. Before incorporating, there is no obligation to have a minimum paid-up capital. It can be founded with whatever amount of capital that the partners contribute.
Dividend Distribution Tax (DDT) not applicable
In the case of a company, if the owners to withdraw profits from the company, additional tax liability in the form of DDT @ 15% (plus surcharge & education cess) is payable by the company. However, no such tax is payable in the case of LLP and profits of an LLP can be easily withdrawn by the partners.
What is the Price I Need to Pay for Registering a LLP?
The Cost of LLP Incorporation  would vary from INR 6899/-  depending upon the plan you choose.
Pay as you
go

grow pricing
All Inclusive Pricing - No Hidden Fee
Basic
₹
6899
all inclusive fees
2 Digital Signature - 2 Year Validity
2 Director Identification Numbers
Incorporation Fee
1 lakh capital
Stamp Duty
PAN & TAN
Current Account Opening
LLP Agreement

Advance
₹
13,999
all inclusive fees
2 Digital Signature - 2 Year Validity
2 Director Identification Numbers
1 lakh authorized Capital
Authorized Capital Fee
Incorporation Fee
Stamp Duty
PAN & TAN
LLP Agreement
Gst Registration
Current Account Opening
Msme Registration
1 year Gst Return Filling

Frequently Asked Questions